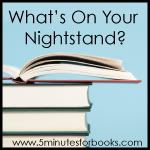 I usually have several books on my nightstand. And on my desk, and maybe 1 or 2 downstairs floating around. I used to carry one in my purse ( pre-kid days) to read while in line somewhere, doctor's waiting room, on lunch-break, etc...
I don't have the time to spend reading as much as I used to, but I still manage to read several books a month, which is more than I can say for most of my friends! It's all about priorities :)
Current reads are:
Novels:
- "The Baby Chronicles" by Judy Baer --this is a steeple hill cafe book. Chic-lit, so its full of humor, light, and easy to read, but still contains everyday spiritual wisdom. It is written as the diary of Whitney Blake, as she embarks on the baby journey. "Recording every bump and blessing -- and a few unexpected detours and discoveries--on the road to motherhood."
This book is actually #2 in the series. First one is "The Whitney Chronicles" diary of spinsterhood and falling in love.
- "The Jewel of Gresham Green" by Lawana Blackwell -- set in the late 1800's, english novel. Ms Blackwell wrote the "Gresham Chronicles" a series of three, several years ago. I loved them so much, and was very excited to see a continuing of the story.
Non-fiction:
- "Taking Care of the Me in Mommy" by Lisa Whelchel -- how many remember Lisa from the Facts of Life?? I knew she was a christian/author but had never had the chance to read any of her books before now. My bosom buddy, Debbie, actually loaned me this book; when I discovered it on her bookshelf while on my trip to IL.
"Realistic tips for becoming a better mom - spirit, body, & soul. ...You'll feel refreshed, energized, and ready to pour the true you into the ones you love!"
What mom doesn't want & need that??
School related:
- Rod & Staff's "Bible Nurture & Reader" Series -- this is the curriculum I chose for my daughter's phonics & reading program. I am slightly intimidated by teaching phonics. This teacher's guide has been very helpful and reassuring.
So that's my nightstand. How about yours?